Custom Designs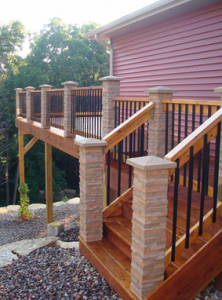 We will work with you to design an outdoor living space that will work with your landscape, existing structures, usage patterns, and your lifestyle. We can design standalone decks or design them to incorporate a tree or outline your swimming pool.
TS Custom Decks also provides design services for gazebos, screened, and multi-season porches. We pride ourselves in delivering more than our customers expect by providing stellar customer service.
New Construction
TS Custom Decks will provide the experience and guidance required for selecting the appropriate building materials for your project. We carefully listen to your usage and maintenance requirements when choosing which building materials are most applicable for your project.
Together we will determine the types of materials that are best for your lifestyle and budget We then meticulously craft the deck, gazebo, or porch of your dreams.
Deck Lighting
Add style and beauty to your deck by adding lighting options. We work with you to choose the color, type, and placement of lights to showcase your deck and turn it into a nighttime living space. Some options to consider include deck and rail lighting, recessed step lights, solar lighting, post cap lights, and stair lighting.
Trex Curve & Custom Curving
For Home Owners
We build decks that literally wrap around the most perfect afternoons.
Decks these days come in so many shapes, sizes, colors and levels it's no wonder the good life is way better outside. In fact, it's a life Trex has perfected with its expertise and innovation in the backyard oasis business. So to help you master the modern luxury deck we provide Trex's CustomCurve™ Heating & Bending Solution.
For Other Contractors
We offer bending services for other contractors. We bend boards and ship them across the country. If you are a contractor wanting us to bend decking or railing for your project, contact us today!
Composite Deck Cleaning
To keep your decks made of composite materials looking their best, we offer a deck cleaning service. Let the experts at TS Custom Decks restore your composite decks to their original shine.
Post Hole Digging
Our company provides a comprehensive solution by providing design, construction, and site preparation services. A major part of a new construction or addition to an existing structure often involves digging post holes. We handle this portion of the project as well.
Repairs
TS Custom Decks will repair your existing structures. We will assess the damaged areas and apply our experience in making your decks, gazebos, and porches look like new again.